Wireless Alarm Components
Wireless Burglar alarm with options for bells only, speech dialler or monitored alarm.
Fully expandable wireless burglar alarm by adding extra wireless sensors when necessary.
Reliable grade 2 class 6 wireless alarm with no interference from external radio sources or wireless broadband. Buy wireless alarm and avoid disruption to your home & Carpets during and after installation.
Wireless alarm offers opportunity to extend protection to large areas & out buildings with wireless detectors in and around the North west: tameside, manchester, North east.
PIR (Passive InfraRed Sensors)
These units work to detect movements within a certain zone in your house and are typically placed in most downstairs rooms as a secondary measure to window and door contacts, we offer pet friendly sensors so your dog or cat can roam freely without setting off your alarm.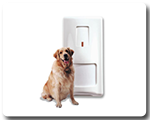 Wire free Pet Passive infra-red Detector
Respond to movement and warm bodied objects, for burglar alarms and wireless alarms in home security and business security. Available as standard, pet friendly, quad and anti-mask versions. all our range have sealed optics to prevent false alarms.
Fitted From £85.00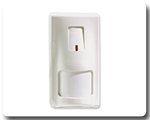 Wire free Passive infra-Red Detector
These units provide dual action detection and are suitable for areas such as a Conservatory, Garage and other harsh environments.
Dual tech detector for Conservatories.
Fitted From £85.00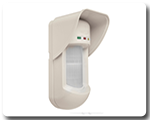 Wire free External Quad element Passive infra-red detector
To be use in only closed yards / gardens / car parks
Fitted From £145.00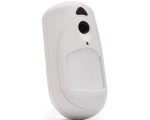 Iwave PIR Camera,
Images are sent to the homeowner who can view them on a Smartphone using the iRISCO App and/or on the web at www.riscocloud.com The visual verification feature enables self-monitoring and also reduces the number of false alarms, increasing peace of mind for the homeowner and saving time and resources for the central monitoring station. All images are stored on the RISCO Cloud server for future analysis if required (Agility Only)
Fitted From £135.00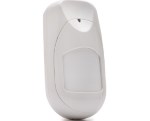 Iwave 2 way PIR
Agility Only
Fitted From £88.00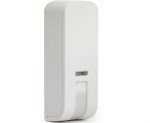 2 way curtain PIR detector
Agility Only
Fitted From £88.00
Flood, Door and Window Sensors
Door and window sensors provide protection against intruders attempting to come through windows and doors by detecting fine movements in the glass or a break in the contacts for opening doors.  These trigger the alarm before an intruder enters your home.  Flood detectors are suitable for wetrooms and kitchens etc.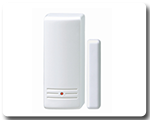 Wire free Vibration detector
For use on windows / Patio Doors conservatory windows and doors, also available as a duo vibration and door contact @£25.00 extra
Fitted From £85.00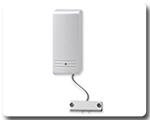 Wire free Flood detector
for use in kitchens / wet rooms bathrooms loft area near header tank.
Fitted From £85.00
Bellboxes, Keypads and Panic Buttons
Keypads are used at entry points to your home to arm and disarm the alarm system, panic buttons are used in rooms such as the bedroom to activate the alarm straight away even if the alarm is disarmed.  Our belboxes are installed with backup batteries.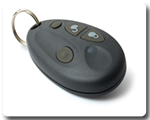 Wire free Remote key Fob
rolling codes for higher security, set unset, night set, panic button
Fitted From £85.00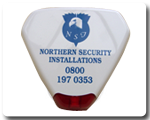 Wireless bell box
c/w sab tamper strobe battery back
Fitted From £140.00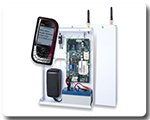 GSM auto Dialler
, the unit accepts any network payg sim cards, on alarm activation the unit will dail 4 landline telephone numbers, mobile telephone number also will sms txt message you mobile, No Land line required
Fitted From £280.00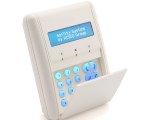 Agility 3 2 way wireless key pad
Agility Only
Fitted From £135.00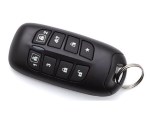 2 way 8 button remote control fob
Agility Only
Fitted From £98.00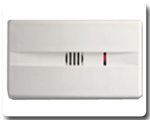 Wire free Break glass detector
Glass break detector
Fitted From £85.00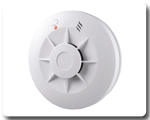 Wire free Optical Smoke detector & heat detectors
a must in every home.
Fitted From £95.00