Wireless Smart Alarms
Northern Security brings you the The most Reliable & advanced wireless smart alarms system available to date, Risco Range of  wireless intruder alarms system with HD VUpoint video verification installed in the Manchester, Glossop, Tameside area.
we offer a free at home or on site working demonstration with no obligation quotation.
Call free on 0800 197 0353
Risco smart intruder alarm supports visual verification with a self monitoring or remote alarm receiving centre, with the Smartphone app (also available via web browser) which enables homeowners to control their alarm systems remotely as well as view real-time images taken inside their premises with the VUpoint wireless PIR camera detector which communicates with the RISCO Cloud server.
24/7 Monitoring
by our Alarm Receiving Centre
Our NSI Gold standard, dedicated, UK-based Alarm Receiving Centre.
In the event of an alarm, the PIR camera or vupoint video camera is automatically activated and captures a sequence of HD images & video with sound & talk back which it sends to users via RISCO's Smartphone/ web Application or 1 of our ARC monitoring station, This capability enables users to view the images and confirm if there is a crime in progress. Monitoring stations can also benefit from the visual verification feature as the capability to ascertain whether there is a false alarm will save them valuable time and resources.
* 5 years warranty is subject to an ongoing annual service contract*
Risco Products are easy to install, can be managed remotely and gives peace of mind, and therefore provides benefits for installers, monitoring stations and end users.
The range of Risco wireless smart security systems from northern security can be enhanced with a wide range of accessories that provide additional protection against theft as well as protection against environmental hazards and providing elderly care. call or mail now for free 0800 1970353.
Bronze
Wireless smart alarm IP

1 x wireless 2 way key pad

Internal Siren

Battery Backup

1 x wireless door contact

2 x  passive infra red detector

Cloud ready included

1 x wireless Bell Box

1 x Fused Spur

Quality Installation

*5 years Warranty
Silver
Wireless smart alarm IP

1 x wireless 2 way key pad

Internal Siren*

Battery Backup

1 x wireless Door Contact

1 x Eye wave camera P.I.R

1 x 4 way remote key fob

1 x passive infra red

1 x Fused Spur

1 x wireless out door sounder

*5 years Warranty
Gold
Wireless smart alarm IP

1 x 2 way key pad

1 x wireless passive infra red

1 x wirless door contact

1 x Eye wave camera P.I.R

1 x 4 way remote fob

1 x wireless Bell box

1 x Battery Backup

1 x Fused Spur

*5 years Warranty
The 2-Way Remote Control is designed with a status indication LED allowing you to be reminded if you have armed or disarmed the system when leaving or coming to the premises.
RISCO Group's new Flexible Wireless Solution provides security, safety and home automation in a combination of sheer elegance and unrivalled simplicity.
Agility incorporates advanced 2-way wireless technology and offers the most flexible solution for the increasing residential and SOHO market, in which conventional intrusion panels are just not enough.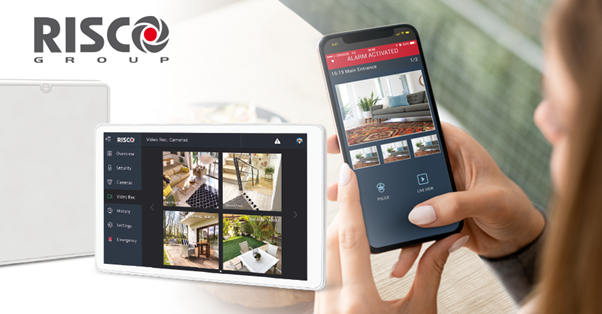 Elderly Parents Safety
Stylish and water-resistant Wristband Panic Transmitter.  Alerts if elderly parents are immobile in the home for over a specified time frame
Security
Full range of wireless outdoor, perimeter and indoor detectors.  Fully wireless sounders.  Advanced remote control and monitoring
Childrens Safety
Sends SMS when children are safely home from school, Video verification option to monitor children at home.
Remote alarm Monitoring.
 Our NSI Gold standard, dedicated, UK-based Alarm Receiving Centre is ready to respond in the event of an alarm trigger, 24 hours a day, 365 days a year.
Safety at Home
Gas, Carbon Monoxide, Smoke and Flood Detectors.
Flexible Connectivity
With Risco products you choose the relevant communication methods. Simply select any or all of the IP,  wifi, ARC modules. All modules are located within the main enclosure.
Flexibility to Install Multiple Systems Every Day
Simplified menu logic – only relevant menus are displayed – according to hardware configuration, accessories installed and authorization level
Full installer programming with 2-Way Wireless Keypad
Simple physical installation with wall brackets
Pre-programmed kits with accessories already enrolled in the system (optional)
Easy enrollment of wireless accessories without need for keypad
Device ID's can even be entered from the PC Configuration Software
System clock automatically adjusted via GSM, GPRS or IP
Program transfer module for configuration storage on removable flash
Easy firmware upgrade with Flash memory
Advanced PC Configuration Software
2-Way Wireless Technology provides the following benefits
Higher communication security as each and every transmission is acknowledged
Less RF transmissions and reduced wireless congestion due to elimination of repetitive signaling
Remote Control and Diagnostics for remote setting and measurement of accessory parameters, reduces number of on-site maintenance visits
Prices starting from as little as £540 please call for more information.